In this 10-part series, we are exposing The 10 Myths that derail start-up coaches and keep them from fully realizing their passions and profits. In this series of articles, we will dive into each myth and turn them around with the truth! By embracing the truths, you can locate the courage to move through your fears and breakthrough the blocks in your coaching business!
MYTH #7: Every Time I Talk With A Prospect I Have To Sell My Coaching!
Over and over we see this with start up coaches: If they meet someone at a networking event – they try to position their coaching services. If a colleague refers someone to them – they try to position their coaching services. If someone opts in on their website to receive a free gift – they try to position their coaching services.
It sounds like it would be logical to sell your coaching services, right!? But often, this is too big of a leap for most people to make! In fact, only 2% of your prospects will convert following this model. That's pretty hard work if you ask me.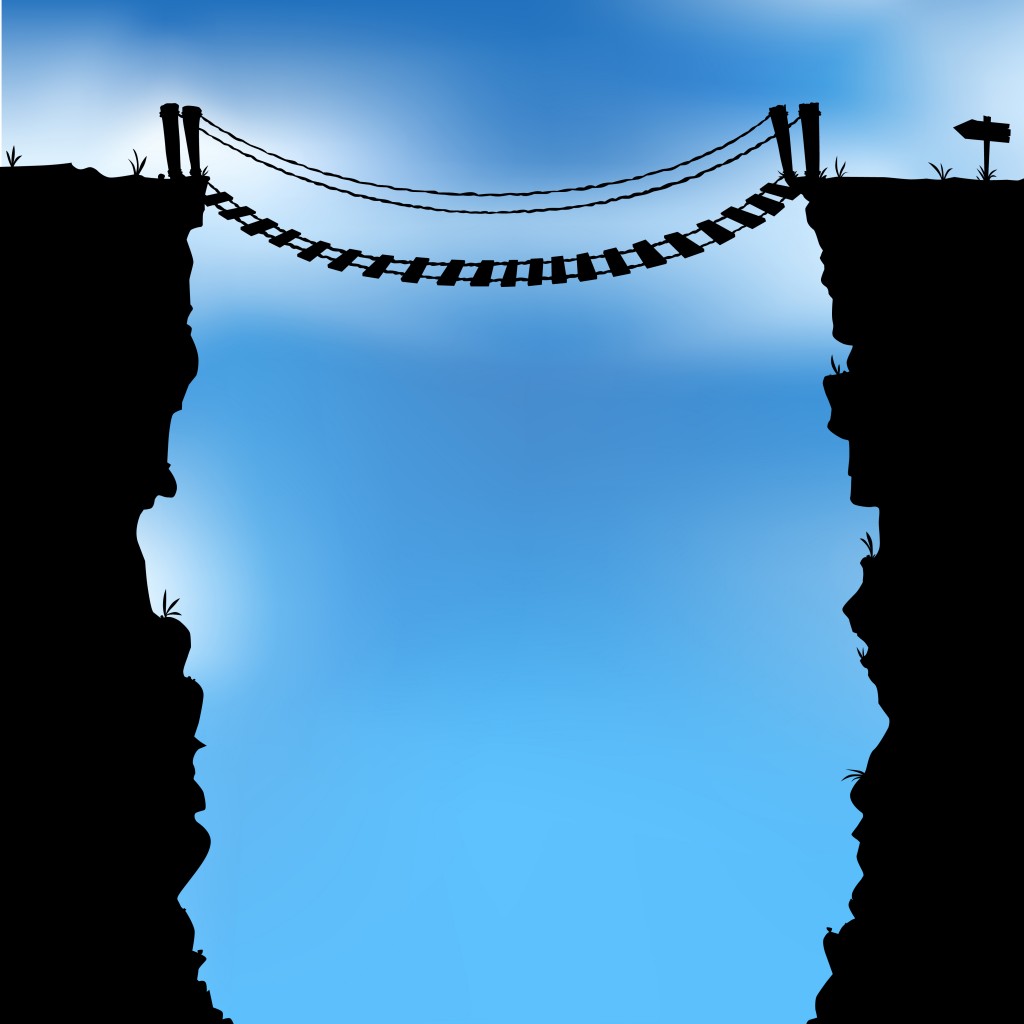 It's like crossing a bridge. Imagine a rope bridge connection two points. The first point, pain island, is where the prospect currently lives: stuck, frustrated, overwhelmed, etc. The second point, pleasure island, is where the prospect wants to live: free, healthy, successful, etc. Your bridge is the key to your prospects getting there. For most prospects leaping the gap immediately upon meeting you is too much because they may or may not know anything about coaching, about you, or about the end result or that they could even receive help and support in the areas they're stuck, which is why they stay stuck. So you must create a bridge for them to safely and easily cross. That bridge is your sales funnel.
Each plank on the bridge is a marketing item, follow up, or resource you provide them with.  The first "plank" is when they stop at your website, opt-in and download your free gift. The next "plank" is your autoresponders where you provide educational-based, automated marketing follow-up. You share tips, resources and tools that help them move closer to the other side of the gap. The next "plank" is NOT your coaching! Let me repeat that. The next "plank" is NOT your coaching!
When a prospect first encounters you, most aren't even sure what coaching is; much less if your services are something they would want to purchase. Now, YOU know they would be well benefited if they would hire you as their coach. But they have no frame of reference to the benefits they would experience. So when you put yourself into their shoes, making an investment of several hundred or several thousand dollars is not something they're going to leap to right away. It feels impossible for them to leap the gap. They must continue on your bridge.
TRUTH #7: Trying To Always Sell Your Coaching Is Too Big Of A Leap! Just Sell The Next Step In Your Sales Funnel!
You have to break it down into smaller steps that they are easily able to take with you. The next step that you position after someone downloads your free gift and receives your automated follow-up is your Sample Session. This is the industry's #1 lead conversion tool.
When you can lead every prospect into a Sample Session they can gain a better understanding of what coaching is, who you are and if this is something they are interested in. Plus, your Sample Session also allows YOU to gain a better understanding of the type of person you're dealing with – are they an ideal client, will you work well with them, are they committed, can they afford your services, will they bring out the best in you?
From your sample session THEN you can position your coaching services, teleclasses, DIY Programs, group programs, etc. And depending on the type of person that is sitting in front of you at your Sample Session, you'll have an excellent idea of what type of product or program to offer them.
Perhaps the individual isn't ready to make a full commitment, you may choose to point them towards your DIY program first. Or maybe the individual you're having the Sample Session with isn't able to make the financial commitment for your Signature Coaching Package so you can offer them to participate in your teleclass.
Your Sales Funnel (or the bridge that traverses the gap between the two points) should always make the next step, simple easy and fun for your prospects to take with you. You must give them a step they are capable of taking. Otherwise the gap is too big and they'll never make the leap.
Here's a checklist of what you need in place to organize, automate and integrate the processes I've described above:
Educational-based website
Free Gift that you offer on your website
Opt-In Form to grow your list
Organized Contact List
Autoresponders to deliver your free gift and provide educational-based follow-up
Online Calendar to provide a direct URL for prospects to book sample sessions.
Automated Appointment Reminders
Session Prep Form
For Coaches Console members, this is easy as it's all done for them in their Console system. There is no need to keep your head spinning trying to figure out how to piecemeal multiple technologies together to create this effect. Click here to check out this quick 4-minute video to see how simple bridging the gap can be.
If you're ready to stop the overwhelm in figuring out how to implement everything necessary for prospects to easily become your clients, check out www.coachesconsole.com where your back-office is done for you!!!