Ahhhh, technology. We love it, right? It can be such a time- and money-saver. It can help us reach so many of the people who need us, faster, and it can make our lives so much easier.
But …
If you're using technology that isn't right for where you are in your business right now, it can become frustrating and overwhelming … and it can end up costing you a LOT of time and money, which can even negatively impact your business.
So how do you know which technology is right for you, right now?
Fortunately, because it's our goal to support you on every step of your coaching business journey, this month we're offering you a powerful (FREE) opportunity to get our expert guidance to help you decide, so you can save money AND minimize technology-related stress.
But first, we want to share a quick story with you, because it was the catalyst for offering you this new free resource
Just last week, one of our valued clients—a startup coach who hadn't even launched her business yet—was totally overwhelmed. Even though she hadn't started marketing her business or signing clients, she had purchased all of the following technologies to help grow her business … because her mentors used them: Lead Pages, Infusionsoft, Coaches Console, Click Funnels… and a few others.

These cost her a pretty penny, to say the least. For example, just ONE of the technologies was costing her $6300 over 18 months! Here's the kicker: she wasn't even using it, because she wasn't in a place yet in her business where she actually required all of its capabilities. (Yes, there IS a time when all of these technologies are helpful—but it's much later; not when you're in startup mode.)

She was attempting to leap the Grand Canyon … when what she needed to do was build a bridge and cross it one step at a time.

So, we had a great discussion, and we brought her back to "Start Up" phase—which we call Business Model 1—and told her what she actually needs, out of everything she had purchased. Needless to say, when she saw how much she could save – and spend elsewhere in her business – she was thrilled. She felt relieved because she understood the "when and why" of implementing those technologies … and her confidence increased because she understood exactly what she needed, now, and how to use it to get to the place where she may need other technologies.
So, how does this happen? How do so many start-up coaches end up wasting money on technology they don't need?
Well, as we mentioned before, many startup coaches work with mentors, and their mentors use and recommend technology.
The problem: startup coaches are NOT in the same place in their business as their mentors are.
To put it simply, just because your mentor uses a certain technology doesn't mean you should use it, too. (I guarantee they weren't using everything they have now when they first started out – and you shouldn't, either.)
Furthermore, just because you buy a certain, more advanced technology early on does NOT mean you'll create faster, bigger results. In fact, doing so can actually work to the contrary, because it can cause even more overwhelm and slow your progress down, as you struggle to figure out how to use everything you have.
Plus, you likely don't have the team support you need to implement everything yet – which means you end up paying for technology you don't even use.
This is an epidemic in our industry – we see it time and time again – and that's why we're on a mission to cure it!
It's time to stop the madness.
To start, we've created a list of the 3 most common types of coaches we work with (listed below). Once you've identified which type of coach you are, we invite you to review the special diagram we've created to help you identify which technology will most benefit you, depending on the phase of business you're in, right now.
Types of Coaches:
The startup coach. This overly-enthusiastic coach is buying every type of technology she can get her hands on, mostly because she sees successful leaders or mentors using it. She's in technology overload, confused because she has redundant technology and she isn't sure which to use now, and which to use later.
The established coach. This coach adds advanced technologies to his business WAY too early because his mentor is using them, but he isn't even sure how they fit into his business and he doesn't have the team to run it. Therefore, he's not using all of it—and of the technology he is using, he's not using to its full capability.
The deer-in-the-headlight start up coach. She's a self-proclaimed technophobe and avoids technology at all costs. As a result, she has a difficult time organizing herself, reaching clients, and supporting more than just a handful of people, so she's making minimal money.
Once you know which type of coach you are, review the following diagram: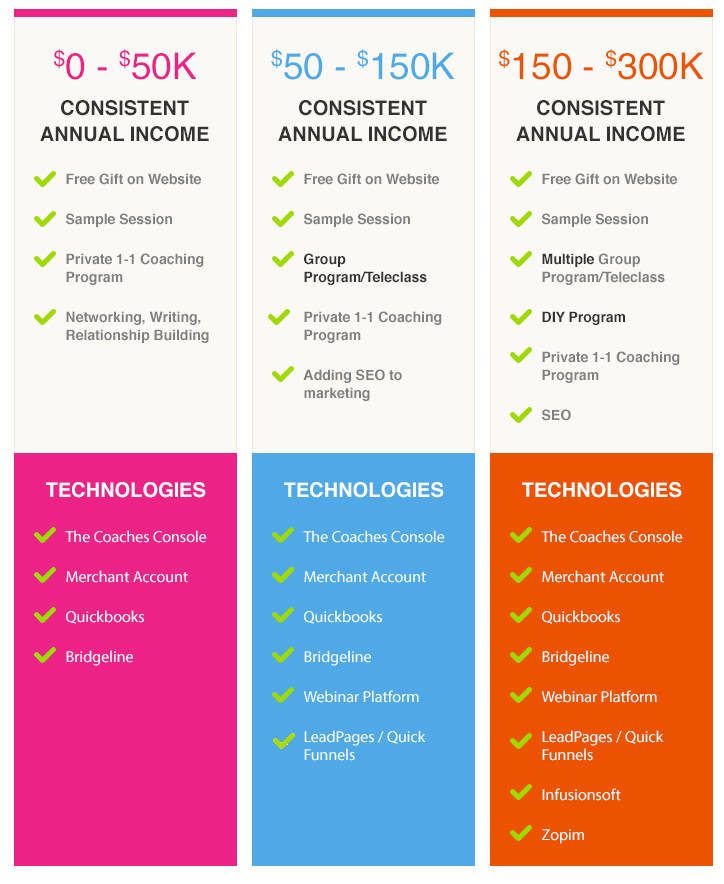 Now, you know we don't give you information without giving you steps you can take right away to move forward, right?
So here we go:
Action Steps
Take a moment, right now, to list out all the technologies you currently have.
For each technology, calculate your cost per month.
Add these numbers up, and then multiply the total by 12 to determine how much you're spending each year on technology.
Pick yourself up off the floor, shake away the shock, and keep reading. 😉
Review the diagram above again, and use it to evaluate which technologies you need to keep now, which ones you need to ditch completely, and which ones to cancel or postpone for a future business model… for the next stop in your business's evolution.
What we have discovered by working with thousands of coaches is that this technology confusion can be the greatest stumbling block to having a financially successful business.. We hope you can reap some real benefit by reviewing these questions and discovering where you are in the matrix…Here's to getting the world coached with fun and profit!